FAQ
How will my fabric be cut?
Our shop sizes show height x width in centimetres / metres. If you order multiples of the same fabric and size, they will be cut as one piece in the following manner, with plush and cuddlesoft thats up to the maximum width of 150cm (approx 60") and with cottons the maximum varies between 112cm (approx 45") and 150cm depending on print: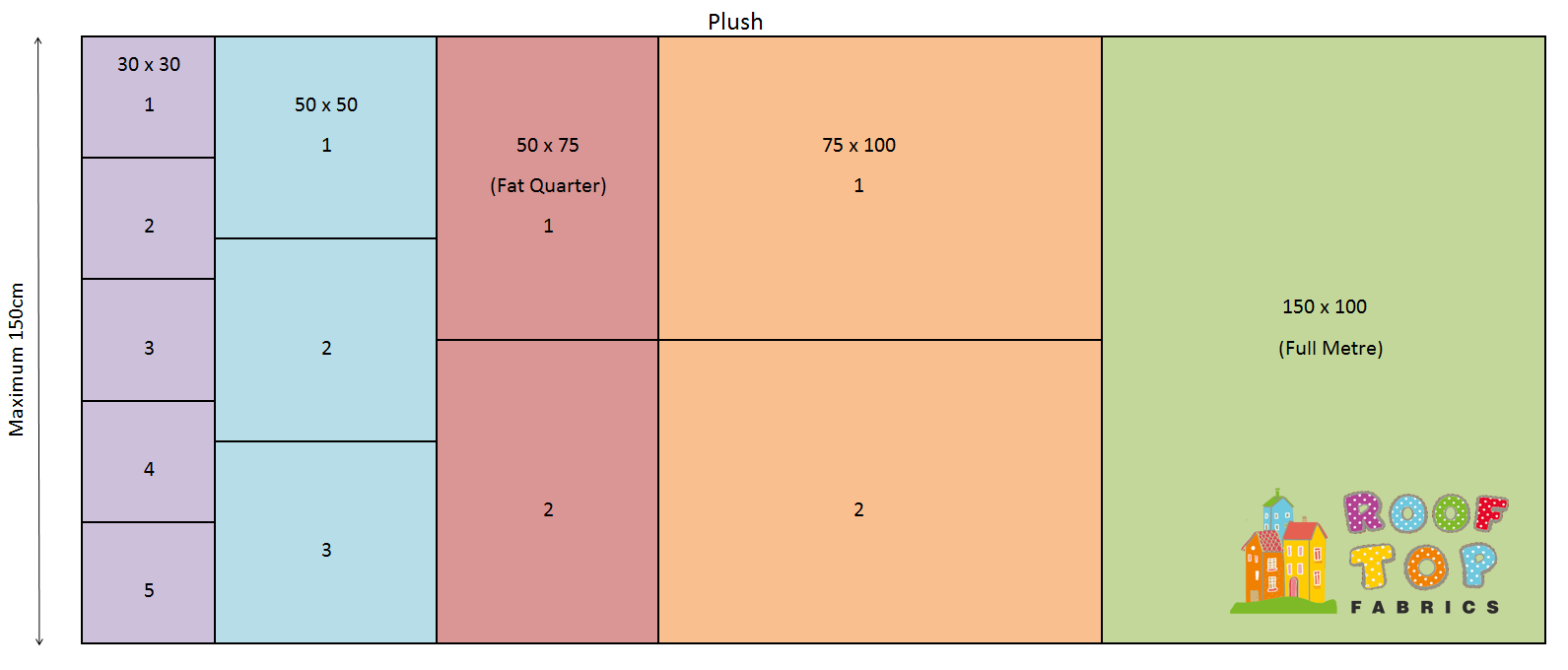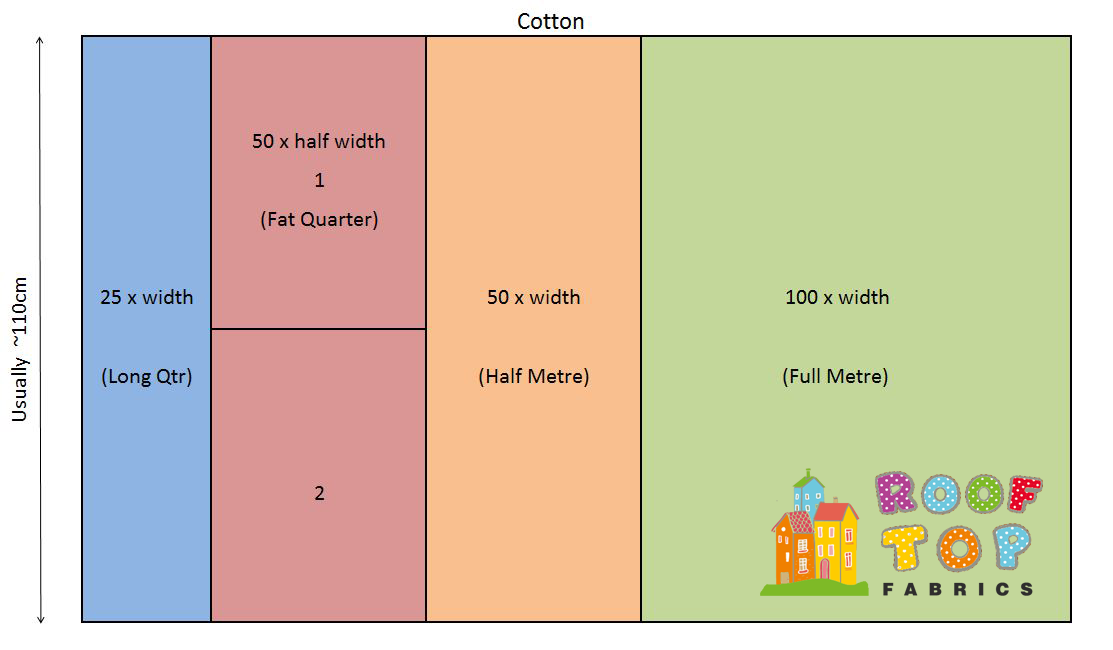 All sizes are are approximate as the printed width of rolls do vary very slightly. If you have any questions about sizing or need your fabric cut differently to the above then please contact us before ordering and we'll do our best to help.
Size conversion
Historically fabric has been sold by the yard at full width. We don't sell by the yard but the slightly larger metric equivalent is 1 metre by a full width, 1 metre being 1 yard and 4". A "Fat Quarter" is an unofficial measurement of fabric generally accepted to mean a half yard length by half a full width, so the actual width is dependant on the width of the fabric roll. As we sell in metric, our fat quarter (50cm x half a width) is slightly larger than an imperial fat quarter. When selecting fabric size, you will find relevent sizes marked as a "Fat Quarter" as well as the actual metric size.
0.3m = 30cm = 12"
0.5m = 50cm = 20"
0.75m = 75cm = 30"
1m = 100cm = 40" (just over 1 yard)
1.5m = 150cm = 60"
Is plush and cuddlesoft fabric the same on both sides?
Plush and cuddlesoft are single sided fabrics with a plain polyester backing so will need to be doubled up or lined when making items such as blankets.
How easy is plush and cuddlesoft to sew?
The fabric stretches one way, so it's easier if you get the stretch laying the same way when making double sided items like blankets. It can be slippery too, so we recommend lots of pins or a walking foot on your machine to stop things moving around.
The fabric doesn't fray once cut so only needs a single hem.
As these are knit fabrics we also recommend you use a ballpoint/jersey needle so as not the tear the fabric.
How do I care for my fabric?
We recommend you wash your Plush and Cuddlesoft up to 40ºc and it should not noticably shrink. As they are polyester line dried gives the best results and we recommend you shake the fabric before drying to help bring up the pile. It can be tumbled dried on a LOW heat but Textured and Dimple Plush should be avoided as heat can relax the decorative features.
Cottons should be washed at 40ºc or less, slight shrinking may occur.
Sometimes my order fails at checkout, what can I do?
Occasionally Paypal doesn't want to play ball when checking out, if this happens try clearing your web browser cache files, or try an alternative web browser if you have one installed. If you're still having problems though, please drop us an e-mail and we'll be happy to manually process your order.
Postage
All postage is based on weight to Royal Mail standard prices. UK postage is capped at £5 per order and free for orders over £50. Some overseas shipping costs are estimated based on data from a single courier so if you feel the price is too high, please get in touch and we will see if I can get a better quote for you.
How soon will I receive my order?
We aim (but can't guarantee) to post orders made before 2pm the same week day, or after that by next working day. Parcels are sent 1st class for UK orders, so generally you'll receive your order within 1-3 working days of ordering. For European and Worldwide orders we use Royal Mail's International Signed-For service which typically take 5-10 working days but will vary depending on geographical location and local delivery services. If you pay via a eCheque rather than Instant Payment, Paypal will take up to 5 working days to release the funds to us so your order will be posted next working day after the funds clear.
Are your prices including VAT?
Yes, Rooftop Fabrics are VAT registered in the UK so charge VAT on all sales to customers within the UK. If you're outside the UK then you do not need to pay VAT, and during checkout the prices will be adjusted to remove the VAT element. Be aware though that any duty or VAT/tax applied by your own country may need to be paid upon receipt of the goods.
Why is there a double entry for my order in my Paypal logs?
If paying by Paypal, our payment process will authorise the funds with Paypal during checkout but won't withdraw the funds immediately. We will then "claim" the funds from Paypal when we're processing your order. This 2 step process may lead to two separate entries in your Paypal transaction log but please be assured that we are only taking the funds once.
Any other questions?
Please Contact Us